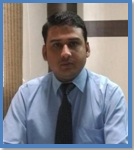 Mr. Rupal Jyotishi
Head Training & Placements | Corporate Relations
Contact Details:-
Mobile No:- 7869727676 | 9229962204
Email:- saittpo@gmail.com | tpo@saitjbp.in

About Training And Placement Cell
SAIT Training and Placement Cell plays an important and critical role on overall development of students graduating from SAIT. T&P Cell prepares the students for the process of recruitment and simultaneously creates awareness about the recruitment opportunities at SAIT among companies. Potential recruiters are given structural support and all the necessary facilities for scheduling interviews, hosting seminars, group discussions and written tests.

Training Initiatives for Students:
1. A special corporate training program is conducted for final year students in resume building, group discussions, general knowledge, current affairs, etc.
2. Mock interviews are conducted by inviting HR Managers and Technical Experts from well-known companies.
3. To get real-world work culture exposure, industrial visits to neighboring companies are conducted each year.
4. Regular Campus Recruitment Classes includes Aptitude and communication skills are conducted. With a focus on Campus Recruitment, special training classes on Employability skills are conducted in association with TEQIP-III, professional training institutes and by inviting some personality development specialists etc.
5. In order to bridge the gap between the university curriculum and industry needs, the college offers various short-term training programs like STEP (an initiative of SAIT). These programs include Python, Aurdiuno, Java, CAD/CAM, Solid-Works, CATIA. Pro-E, MATLAB etc.
6. On campus training for competitive exams like GRE, GATE, CAT, etc is also offered.

Placement Activities/Opportunities/Services:
1. Vocational Training and Internships are ensured for First to Pre-Final year students.
2. We provide campus opportunity to final students from 7th semester onward. We have divided two placement sessions in a year, June-Dec & Jan-June. In first session major IT companies offers placement opportunities to final year students in all domains of information tecnologies and in Second session all IT, Manufacturing and infrastructure companies offers placement opportunities.
3. Our Training & Placement team invites companies of national and international reputes from all domains to conduct campus drives at SAIT campus on Close drives, Open drives, Poll drives and drives by/on virtual mode for SAIT students.